Our Traeger Pork Belly Twists are such a fun way to serve up delicious, tender pork belly! Fire up your smoker and break out those metal skewers, you need these at your next barbecue, cookout, or football party!
Traeger Pork Belly Twists
Pork belly is such a versatile piece of meat. Obviously its shining star is bacon, which we all love, but you can do a lot more with pork belly than just that!
Pork Belly Twists are very similar in flavor and in method to pork belly burnt ends, but the twist gives them a fun texture and presentation too.
This is not a fast recipe to make, but it is easy, and most of the time isn't spent actively cooking. You will want to use metal skewers for this, if possible. We haven't tested with bamboo, so experiment with caution.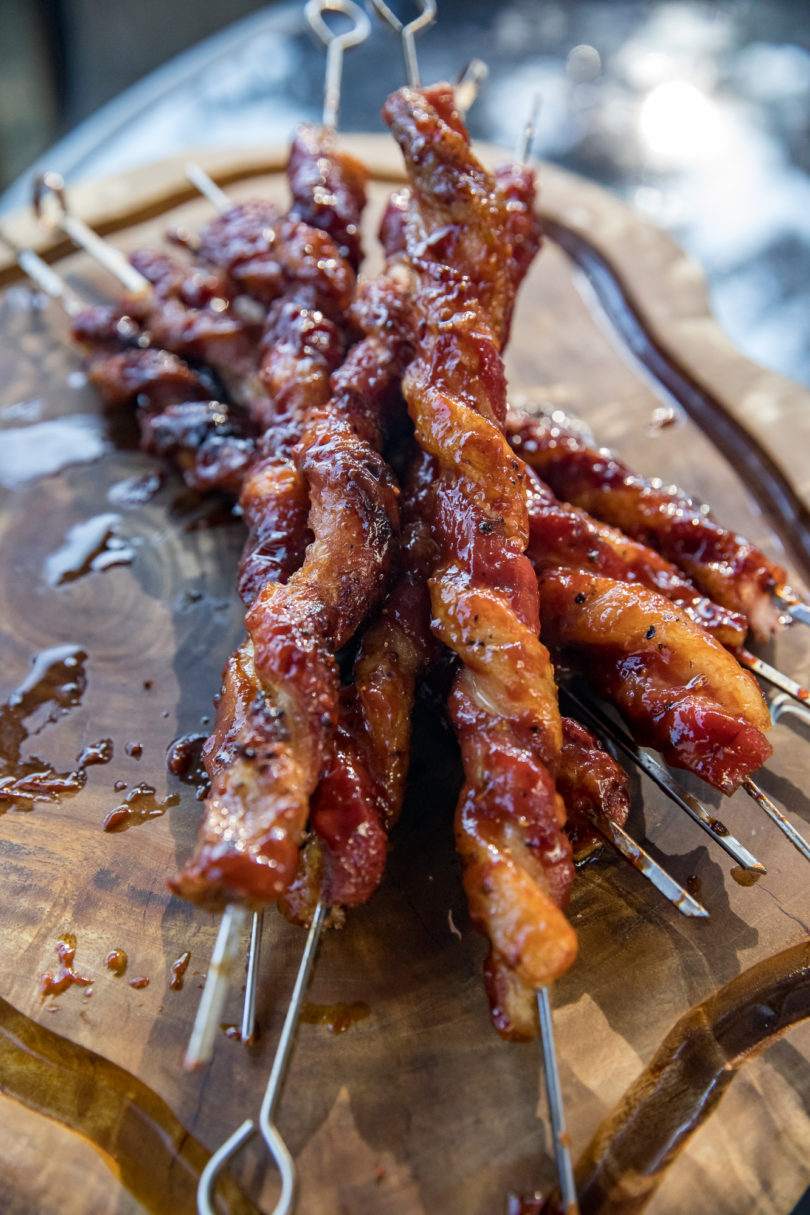 Smoked Pork Belly Twists shopping list
Wondering if you have to hit the store? Here's the list of items you'll need to make this recipe. For specific amounts, please refer to the printable recipe card at the bottom of the post.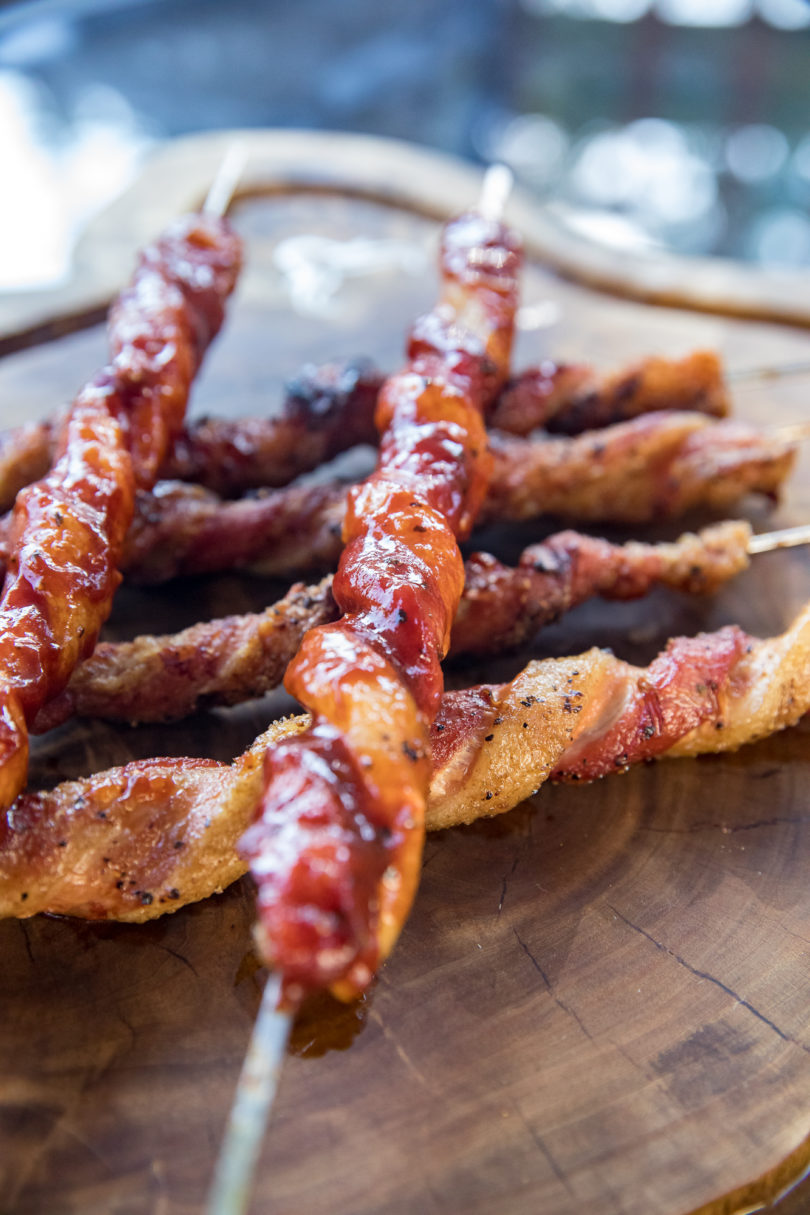 How to make Smoked Pork Belly Twists
This is just the overview so you can see what you're actually getting into here. When you are cooking, you'll want to use the full recipe at the bottom of the page.
Preheat
Heat your smoker to 250°F.
Skewer
Cut your pork belly into 1/2″ strips. Thread onto skewers, and then twist. Season with the Honey Hog rub, or your favorite bbq rub for pork.
Smoke
Smoke for around 3 hours, or until the fat is beginning to render and the meat is tender.
Wrap
Place the skewers in foil, paint with barbecue sauce, and wrap tightly in foil. Put back on the grill for another hour.
Enjoy
Unwrap and enjoy hot! You can cut them into bite-sized pieces or keep whole and serve a whole skewer to someone.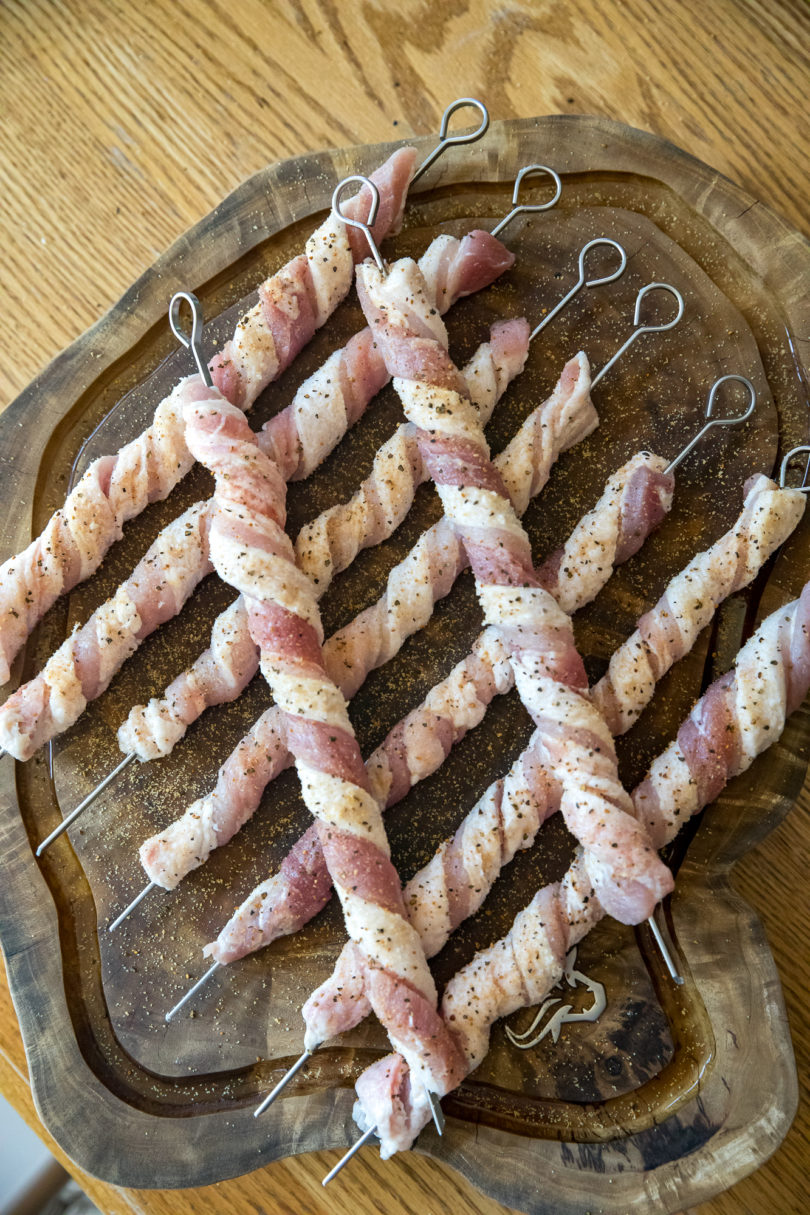 Traeger Pork Belly Twists FAQ
How do you store leftovers?
Store these in the fridge in a large baggie or in another airtight container for 2-3 days.
What's the best way to reheat leftovers?
These are best eaten the same day they are cooked. If you have to reheat them, gently in a sous vide is the best method. If you do not have a sous vide machine, you can also wrap them in foil with some more bbq sauce and use the oven or grill. I do not recommend the microwave for this dish.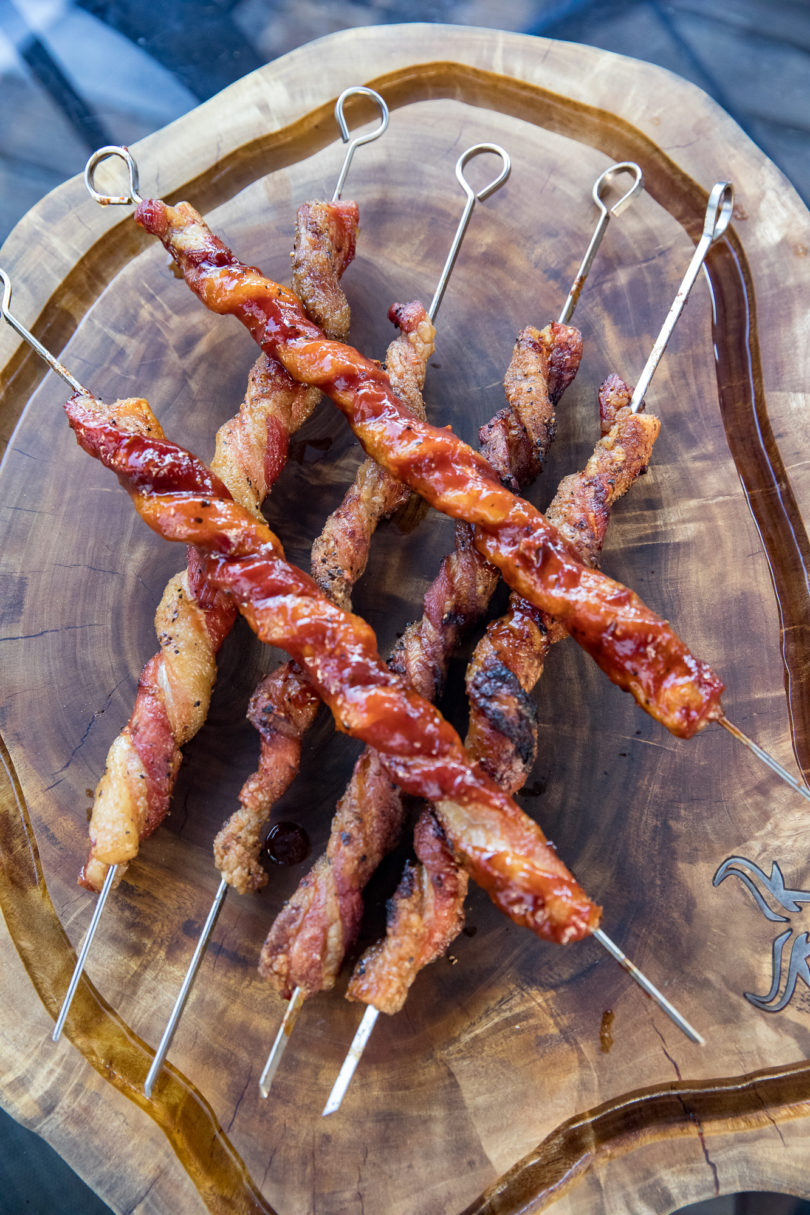 More great Traeger Appetizers!
More great recipes to love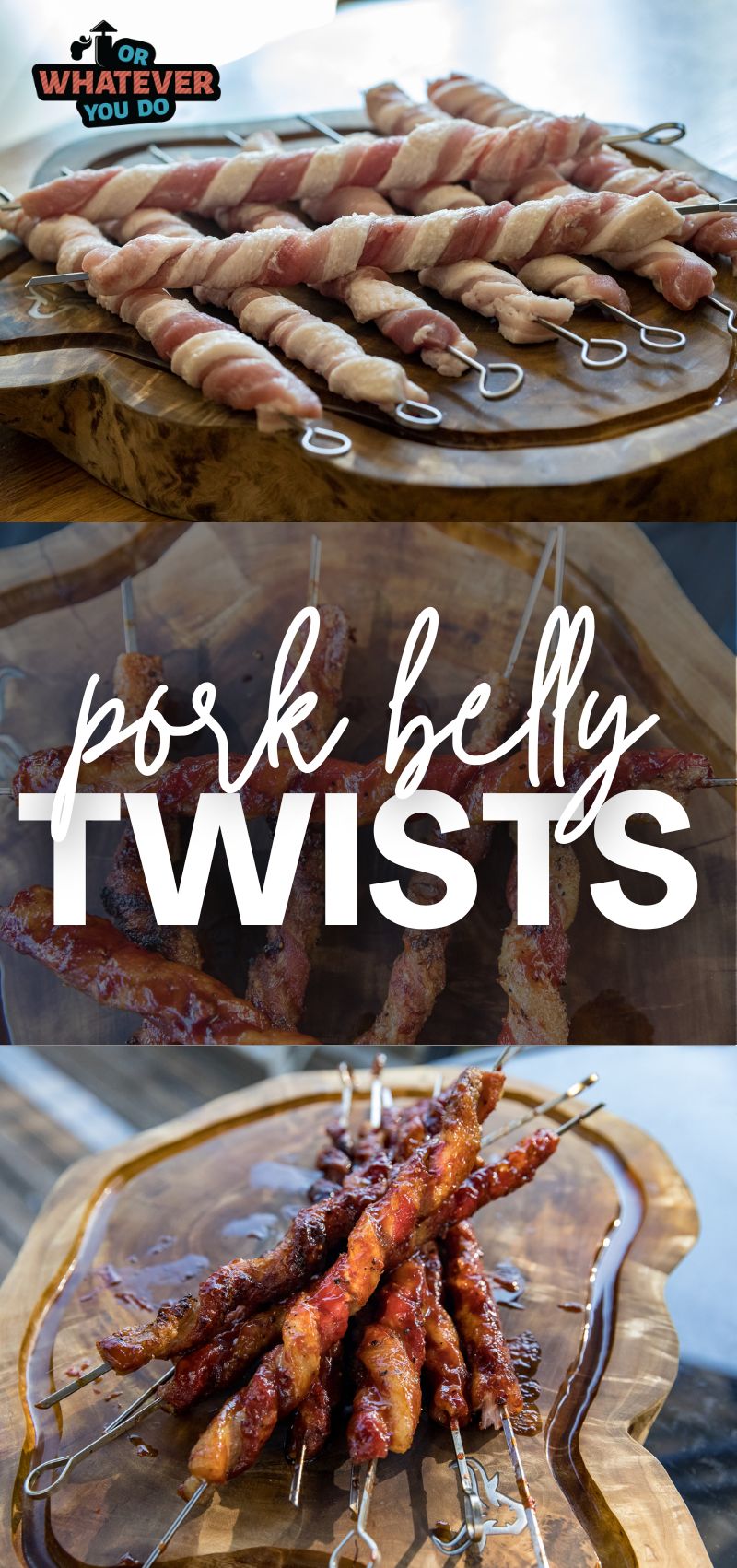 Prep Time
10 minutes
Total Time
10 minutes
Ingredients
3 pounds pork belly
2 tablespoons Meat Church Seasoned Salt
1/2 cup barbecue sauce
Instructions
Preheat your Traeger for 250°F.
Cut your pork belly into about 1/2″ thick strips. Thread onto long metal skewers, and then twist.
Season with the seasoning salt (or your favorite bbq rub).
Smoke for around 3 hours, until the fat is rendered and the meat is tender.
Place the skewers into a tin foil pouch. Paint liberally with barbecue sauce. Seal up the tin foil pouch and place back on the grill for another hour.
Remove and serve hot!
Recommended Products
As an Amazon Associate and member of other affiliate programs, I earn from qualifying purchases.
Nutrition Information:
Yield:
6
Serving Size:
1
Amount Per Serving:
Calories: 709Total Fat: 49gSaturated Fat: 18gTrans Fat: 0gUnsaturated Fat: 29gCholesterol: 193mgSodium: 520mgCarbohydrates: 10gFiber: 0gSugar: 8gProtein: 53g
Nutrition data provided here is only an estimate.