This simple Traeger Spicy Corn Salsa Recipe is going to be such a hit at your next gathering! Comes together in about 30 minutes, and you can control the level of spice too. Easy ingredients, simple preparation, and just the right amount of wood-fired flavor, courtesy of your favorite pellet grill.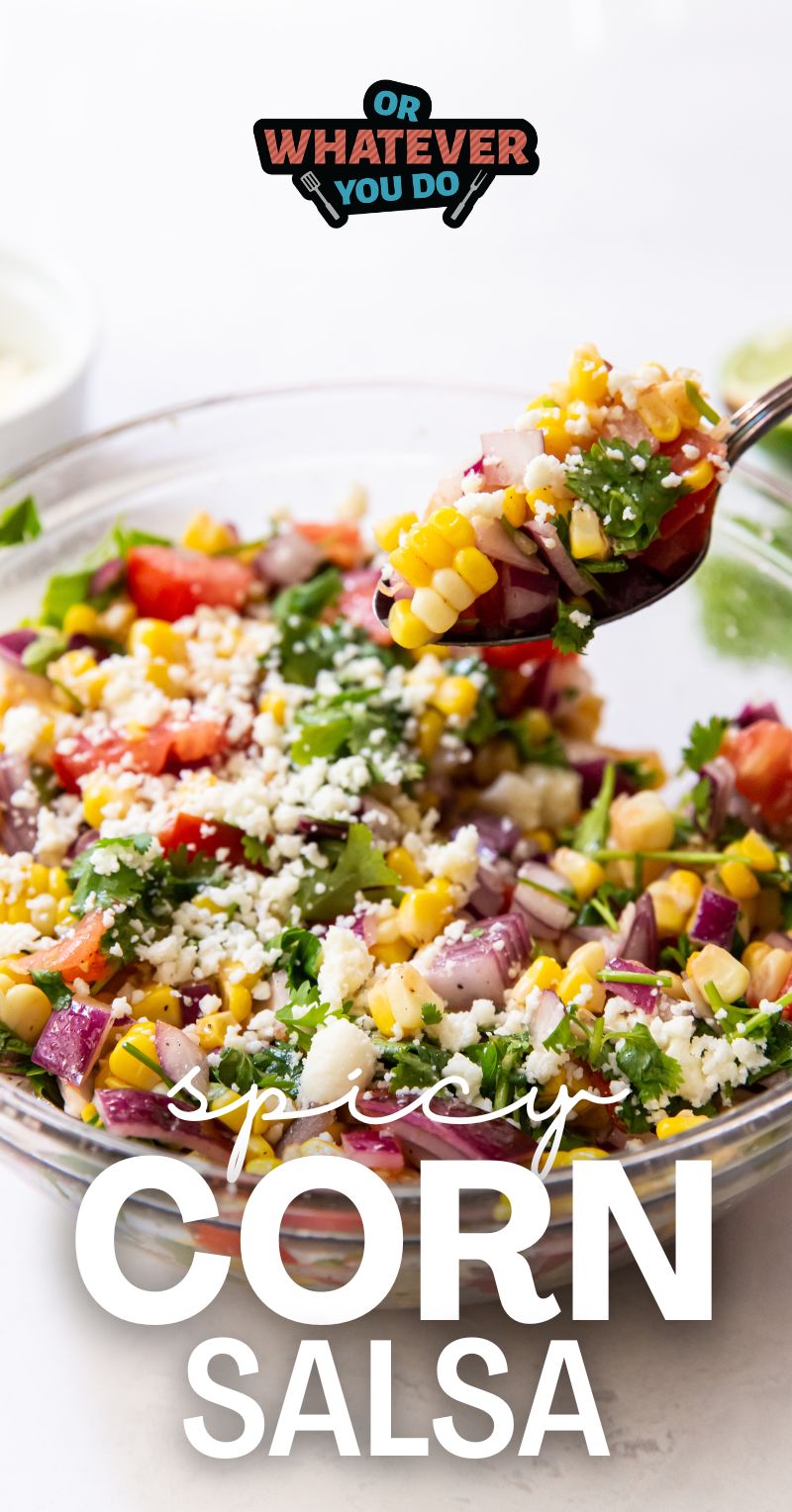 Traeger Spicy Corn Salsa recipe
Fresh sweet corn is a special treat, and one of my favorite starchy vegetables to incorporate into some of my favorite meals. This grilled spicy corn salsa recipe is probably my favorite though. It is easy to whip up, perfect on tacos (like my Traeger Blackened Fish Tacos), or even as a dip for tortilla chips. My spicy food-loving teenagers love the jalapeńo bits in this, and you can adjust according to your personal preferences.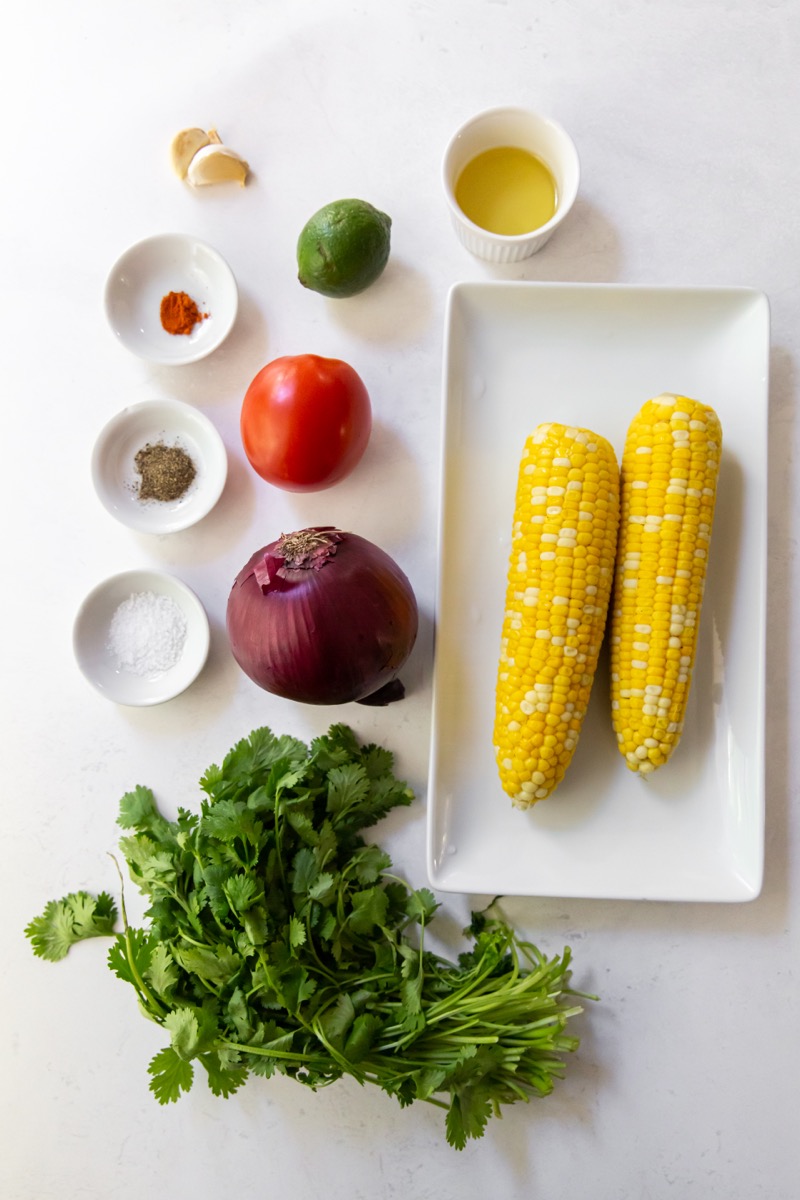 Spicy Grilled Corn Salsa shopping list
Wondering if you have to hit the store? Here's the list of items you'll need to make this recipe. For specific amounts, please refer to the printable recipe card at the bottom of the post.
corn on the cob
heirloom tomato
red onion
garlic
jalapeńo pepper
lime
avocado oil
cilantro
kosher salt
black pepper
cotija cheese
How to make Spicy Grilled Corn Salsa
This is just the overview so you can see what you're actually getting into here. When you are cooking, you'll want to use the full recipe at the bottom of the page.
Preheat
You're going for 375° here. Hot and fast!
Cook & Prep
Throw the corn on the grill. Put your onion, jalapeńo, lime, and garlic onto a baking sheet and place on the grill. Cook the corn for around 30 minutes and the other vegetables for 15-20 minutes.
Mix
Combine the juiced lime, avocado oil, cilantro, salt, and pepper in a bowl and whisk until combined. Let meld while you chop your vegetables.
Chop
Cut the corn off of the cob and place into a medium-sized bowl. Dice the jalapeńo and garlic and throw into the bowl along with the diced onion.
Drizzle & Enjoy
Add the dressing to the vegetables and mix to combine. Top with cotija cheese and serve.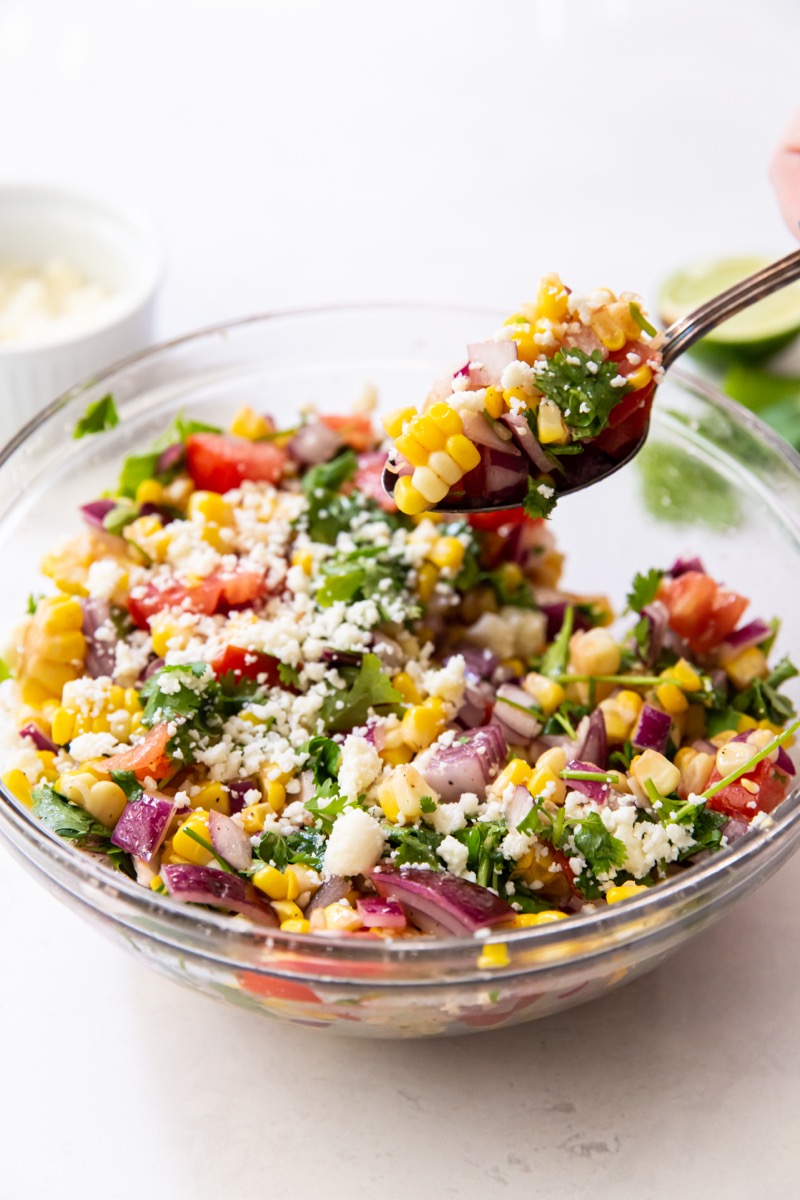 Corn Salsa FAQ
How do you store leftovers?
Store these in an airtight container in the fridge for up to a week.
What's the best way to reheat leftovers?
Good news, these don't need to be reheated! This corn salsa is perfect warm OR cold.
Are there any substitutions for the jalapeńo?
Yup! You can omit it all-together if you don't want spice in your corn salsa. You can also sub in whatever your favorite spicy pepper is.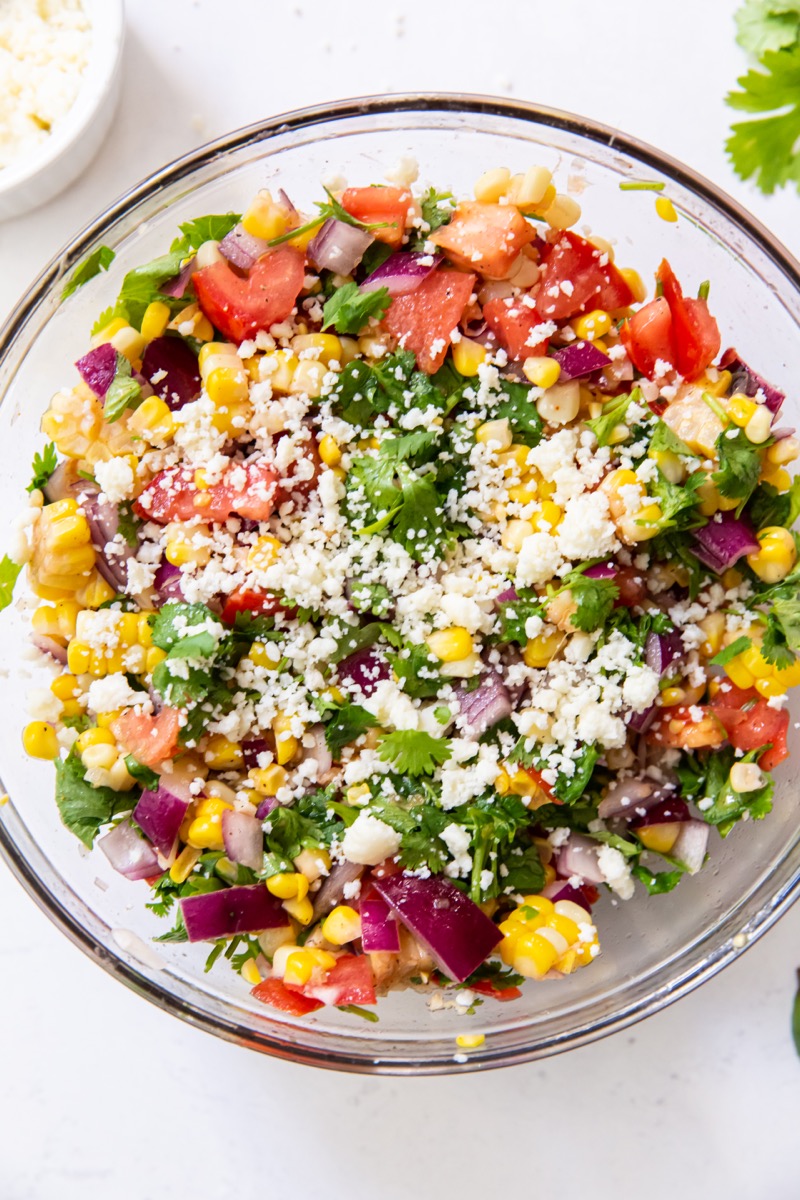 More great appetizers and dips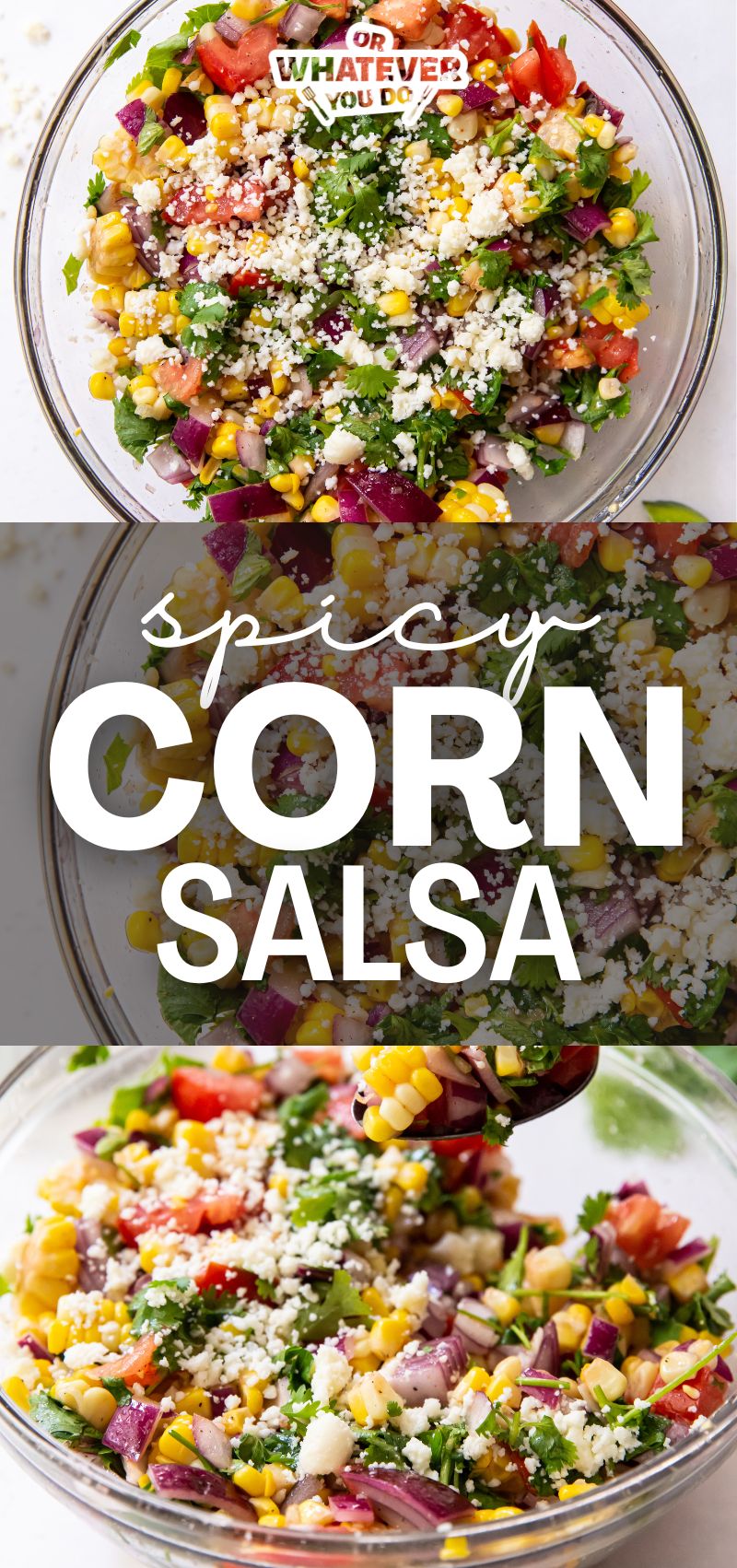 Prep Time
10 minutes
Total Time
10 minutes
Ingredients
2 corn on the cob
1 medium heirloom tomato, diced
½ medium red onion, diced
2 cloves garlic
1 jalapeno pepper, seeded and diced
1 lime, halved
2 tablespoons avocado oil
½ cup of cilantro, chopped
½ teaspoon kosher salt
¼ black pepper
1/2 cup cotija cheese
Instructions
Preheat your pellet grill to 375°F.
Husk the corn on the cob and place on the grill. Put the diced red onion, jalapeńo, lime, and garlic onto a grill-safe sheet pan. Put on the grill.
Cook the vegetables for 15-20 minutes, and the corn on the cob for 30-35 minutes.
Slice the corn off of the cob and place it into a medium-sized bowl. Add your diced tomato and the grilled onion. Mince the garlic and add that too.
In a separate bowl, juice the lime juice, avocado oil, chopped cilantro, kosher salt, black pepper and cayenne pepper. Mix well.
Pour the dressing over the corn and stir until everything is evenly coated.
Sprinkle the cotija cheese on the top.
Enjoy!
Nutrition Information:
Yield:
8
Serving Size:
1
Amount Per Serving:
Calories: 92Total Fat: 6gSaturated Fat: 2gTrans Fat: 0gUnsaturated Fat: 4gCholesterol: 8mgSodium: 251mgCarbohydrates: 8gFiber: 1gSugar: 2gProtein: 3g
Nutrition data provided here is only an estimate.