[ad_1]

Make this easy and delicious Plum Cake recipe with simple pantry ingredients! You can also use peaches, apricots, figs, and berries to enjoy this cake all-year round.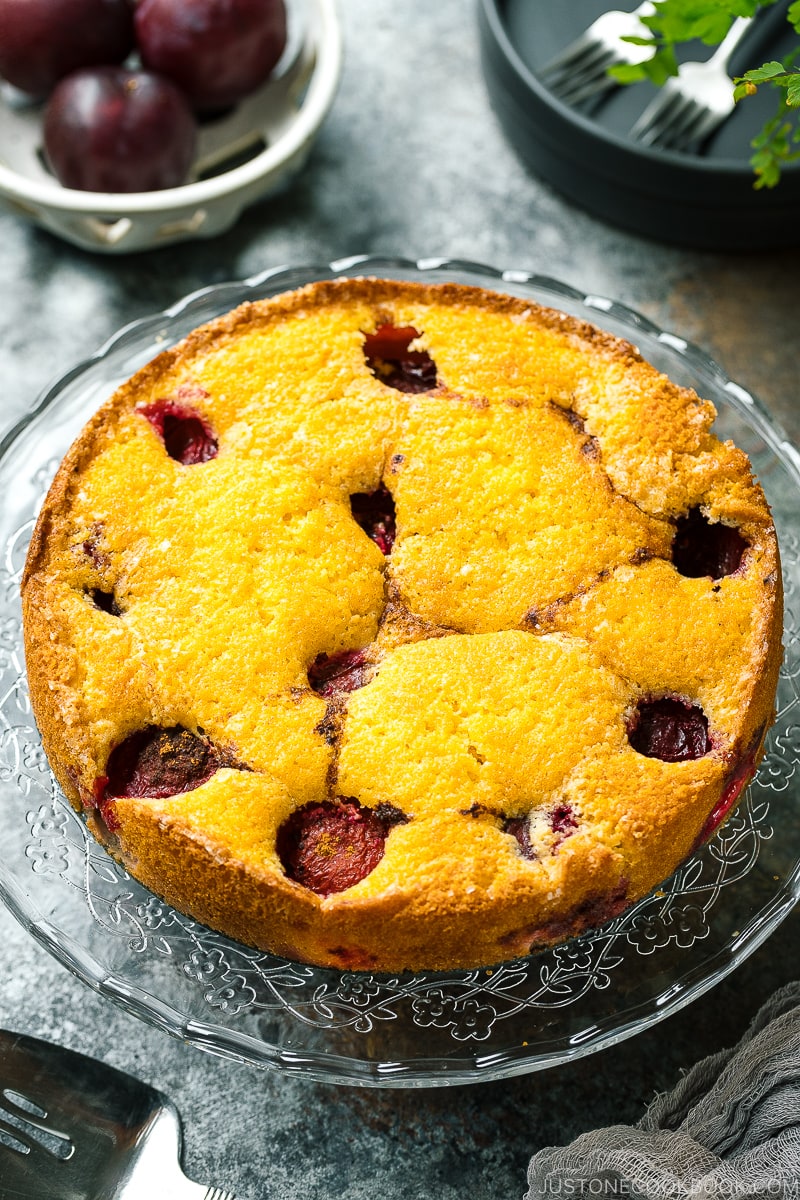 Every summer, our neighbor gives us bags of organic plums when their plum trees fruit. One of the best ways to use up those plums is to turn them into a Plum Cake (すもものケーキ). My family looks forward to this cake, especially when plums and other stone fruits are in season.
I found this plum cake recipe online (written in Japanese) several years ago when I was looking for ideas to make the most of the abundant plums I had. This original recipe came from the baker's British mother-in-law and I adapted the recipe to make it in my 9-inch cake pan with a few additional ingredients.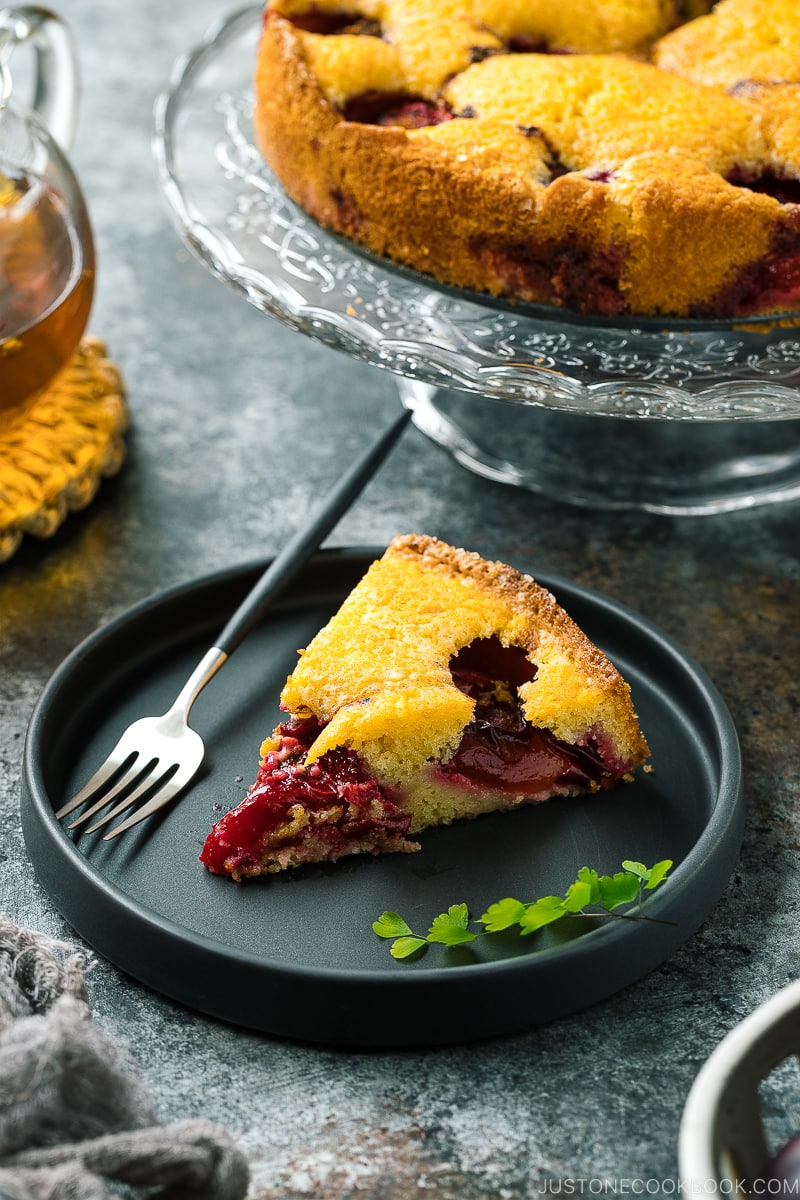 Why You Should Make This Plum Cake
Incredibly easy! Just mix all the ingredients and bake!
The recipe is easy to memorize (in metrics) and highly adaptable.
The cake is so delicious and outstanding!
You can use various fruits to make the cake year-round.
This cake is a delicious way to end a day. Yet, it's also gorgeous enough to grace any special occasion or a last-minute brunch party. Serve it plain, or topped with vanilla ice cream or crème fraîche.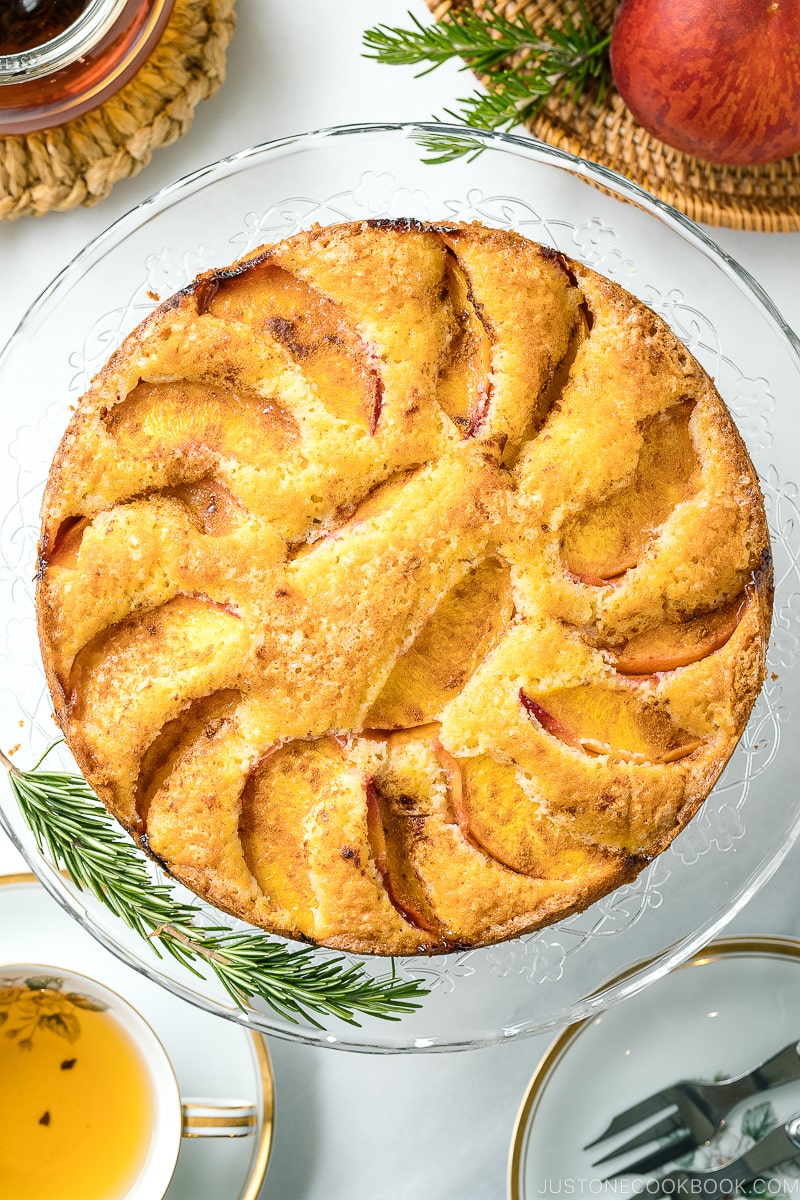 The Basic Cake Batter Recipe That's Easy to Remember
As I mentioned earlier, this cake batter is so easy to remember. I usually make dessert recipes using a metric measurement (with a kitchen scale). *The cup measurement is written on the recipe card. I find it a little harder to memorize than this metric recipe.
For a 7-8 inch (18-20 cm) round pan
100 g unsalted butter
100 g sugar
100 g eggs (2 large eggs)
100 g all-purpose flour
1 tsp baking powder
pinch kosher salt
1 tsp almond or vanilla extract
* You can also use a 6-inch (15 cm) square pan.
For a 9-10 inch (23-25 cm) round pan
150 g unsalted butter
150 g sugar
150 g eggs (3 large eggs)
150 g all-purpose flour
1 1/2 tsp baking powder
1/2 tsp kosher salt
1 1/2 tsp almond or vanilla extract
* You can also use an 8-inch (20 cm) square pan.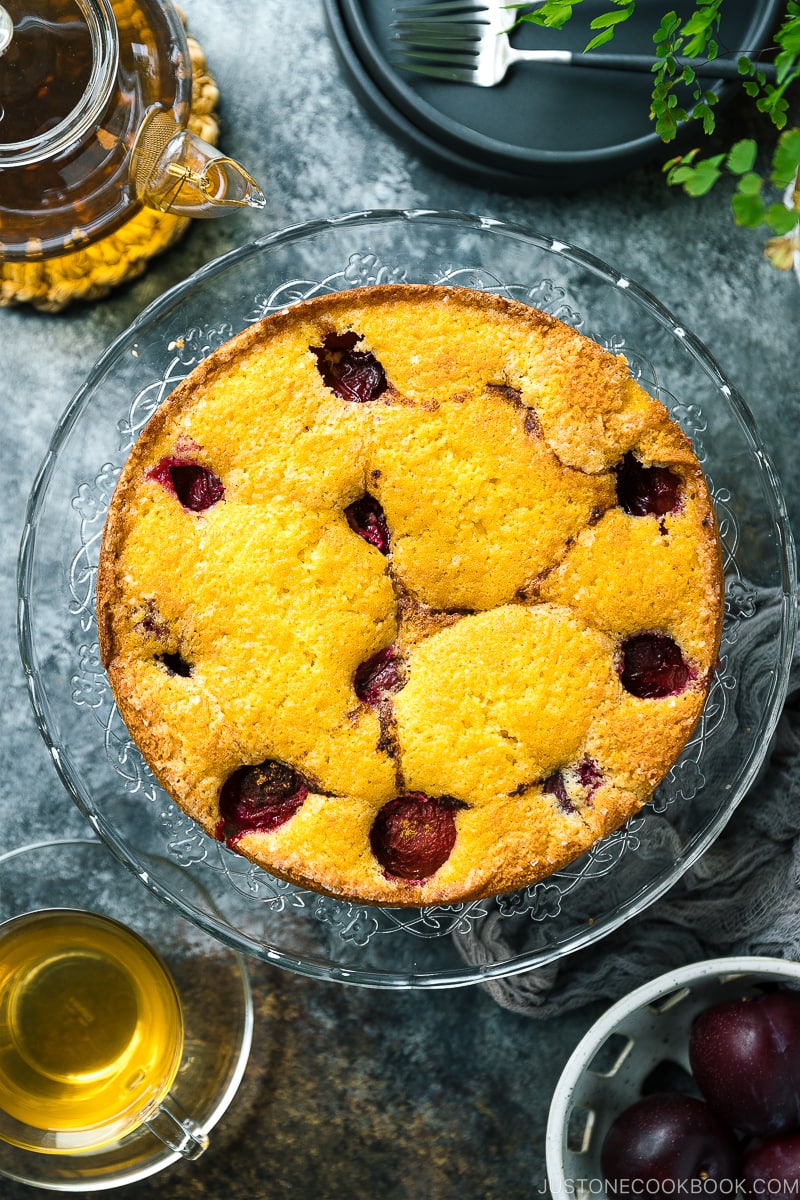 Cake Batter Variations
Over the years, I've made different variations of the basic cake batter recipe above. I keep the core ingredients but change things up slightly based on the fruits.
Lemon zest
Almond slices
Ground cardamom (you can also use ground cinnamon and nutmeg combo)
Vanilla extract (I use the almond extract as basic)
Crystallized ginger
What other variations have you tried before? Please share in the comment below!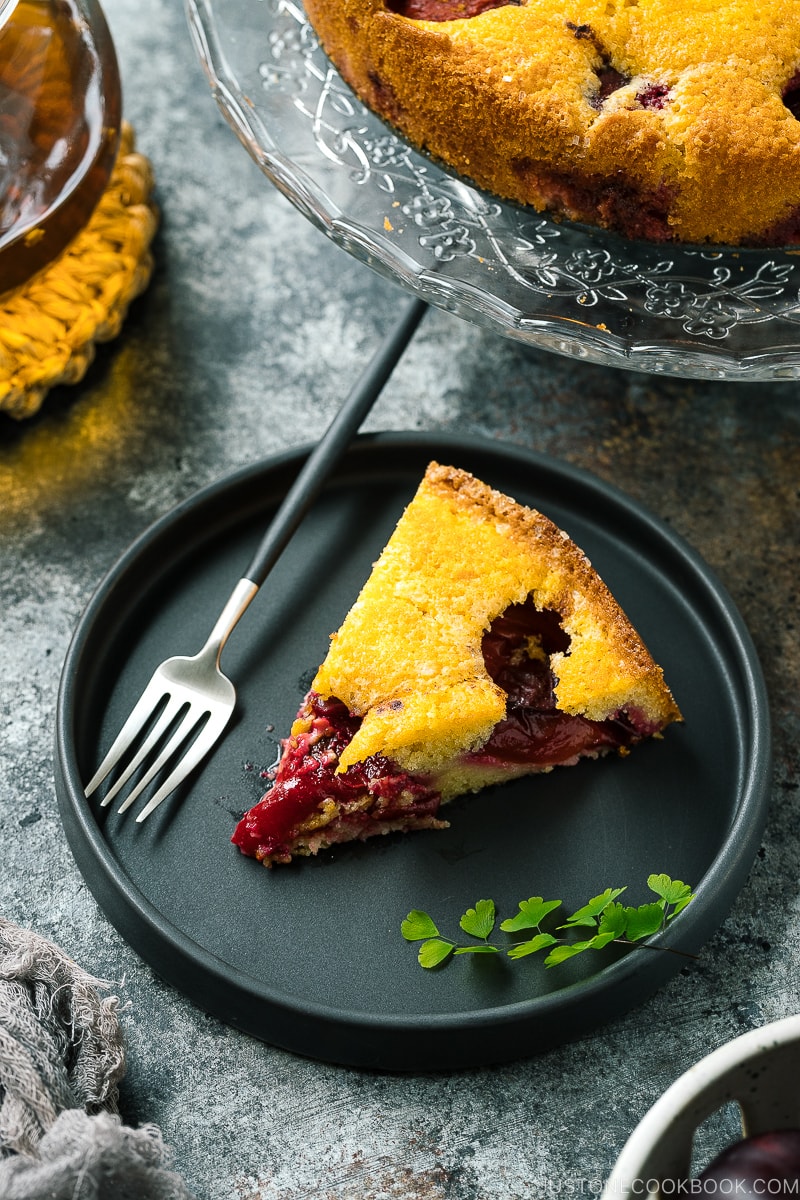 How to Make a Plum Cake
Preheat the oven to 350ºF (ºC) and bring the butter and eggs to room temperature.
Cream the butter and sugar in a bowl.
Add eggs one at a time and add almond/vanilla extract.
Add dry ingredients and mix to combine.
Spread the cake batter into a spring-form pan.
Place the plum halves skin side up on top of the batter.
Sprinkle ground cinnamon and sugar (crystal or turbinado sugar).
Bake in a preheated 350ºF oven for 35-45 minutes.
Let cool slightly and remove the cake pan.
Enjoy the cake with a cup of tea (Hot Cinnamon Spice is my favorite to go with this cake).
Plum Cake Tips
Pan options: I use a standard 9-inch springform pan and the cake bakes beautifully. If you don't own one, you can line a regular 9-inch cake pan with parchment paper and the cake should come out well. If you want to bake the cake in an 8-inch square cake pan, please check the baking time as it may require extra time to bake or finish earlier than the specified time.
Flour options: I've tried this recipe with both all-purpose flour and cake flour, and they come out equally well. I haven't tried combining it with the almond meal but I think that will work too. I assume gluten-free flour should work, too.
Almond or vanilla extract: My family loves almond extract in this recipe (it's our secret ingredient in making waffles!), but feel free to use vanilla if that's what you have on hand.
Optional ground cinnamon: I love sprinkling ground cinnamon for an extra bit of flavor. Warm spices like cinnamon, nutmeg, and cardamom complement the fruit very well.
Sparkling sugar crystal or turbinado sugar: I highly recommend sprinkling crystal or turbinado sugar on top of the cake. It gives a little sparkle on top of the cake as well as a light crackly crust. If you don't have this type of sugar, you can simply use regular granulated sugar. If your plums are slightly sour, I find the sugar topping necessary and may want to increase the amount a tiny bit.
How to Substitute Plums with Other Fruits
If you are not a fan of plums, you can definitely substitute them with other fruits. In general, I think you can use pretty much any kind of fruit.
Peaches
Blueberries
Figs
Apricots
Peach Cake
Slice 2 fresh peaches into 8-12 wedges, coat them with lemon juice to avoid turning brown, and fan them out on the cake batter.
Blueberry Cake
Combine 2 cups of fresh blueberries with 1 tsp flour and lemon juice in a bowl. Spoon the berry mixture over the batter. If you use frozen blueberries, use them frozen. The flour coating is to prevent the blueberries from sinking to the bottom of the cake.
Fig Cake
Slice 10-14 fresh figs vertically in half and place them flesh side up.
Apricot Cake
Slice 10-12 fresh apricots vertically in half or quarter and place them skin side up.
Plum Cake Storage
The cake will keep well covered (I usually use a cake stand with a dome lid) at room temperature for 2 days or in the refrigerator for up to 5 days. I actually prefer to make this cake a day in advance as it tastes better the next day.
You can also freeze the leftover cake for up to 3 months.
More Cake Recipes to Enjoy
Here are some of my favorite dessert recipes to enjoy all year round!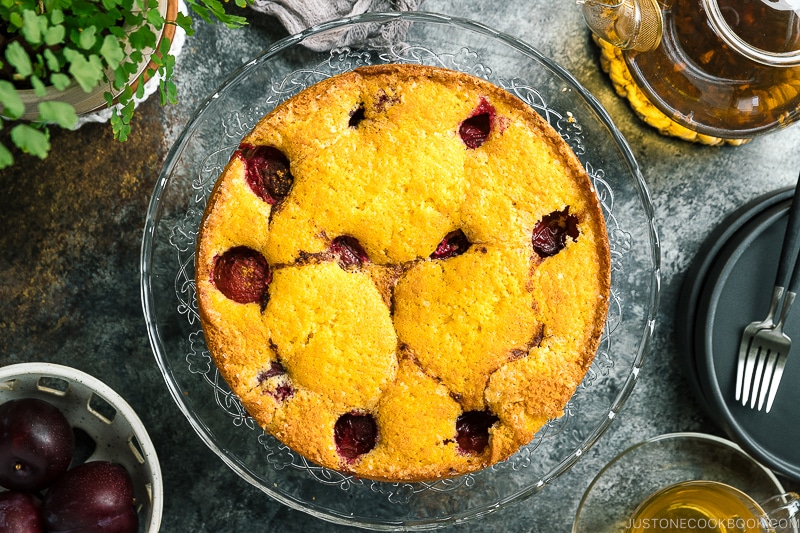 Plum Cake
Make this easy and delicious Plum Cake recipe with simple pantry ingredients! You can also use peaches, apricots, figs, and berries to enjoy this cake all-year round.
Japanese Ingredient Substitution: If you want substitutes for Japanese condiments and ingredients, click here.
Instructions 
Gather all the ingredients. I use a kitchen scale to measure my ingredients (click the "Metric" button above). For a smaller pan, see the measurement in the blog post. Preheat the oven to 350°F (180ºC) and set the oven rack in the middle position. 

Crack the eggs in a small bowl (to avoid accidentally adding a broken egg shell into the batter). In another medium bowl, whisk together the flour, baking powder, and salt.

Slice the plums in half by cutting the fruit around the pit. Hold the fruit and twist it to open.

Remove the pits from the halves.

Add the butter to the bowl of an electric mixer fitted with the paddle attachment or beaters. Grease a 9-inch springform pan (both the sides and bottom) with the residual butter left on the wrapper.

You can line the bottom of the cake pan with a parchment paper circle (optional). This will make it easier to remove the cake from the pan.

Add the sugar to the mixer bowl. Cream the butter and sugar until pale and fluffy, about 3 minutes.

Add the eggs, one at a time, and beat on low speed until well combined.

Using the silicone spatula, scrape down the sides of the bowl and add the almond extract.

Gradually add the flour mixture and beat on low speed until smooth and combined.

Scrape down the sides of the bowl with the spatula.

Transfer the batter to the prepared pan and smooth the top with the spatula.

Arrange the plums on top, skin side up in a circular pattern, to mostly cover the batter.

Sprinkle the cinnamon and white sparkling sugar over the plums.

Bake for 35 to 45minutes (larger fruit needs a longer bake time), until the cake is golden on top and a toothpick inserted into the center comes out clean.

Place the cake on a wire rack to cool. Run a butter knife along the outer edge of the cake to loosen it from the pan. Then, release and remove the sides of your springform pan, leaving the base in place.
To Store
Store the leftover cake, covered, at room temperature for 2 days or in the refrigerator for up to 5 days. Or, freeze the leftover cake for up to 3 months. Make sure to wrap the completely cooled cake with aluminum foil or plastic wrap, and then place it in a freezer bag. Thaw overnight on the countertop before serving.
©JustOneCookbook.com Content and photographs are copyright protected. Sharing of this recipe is both encouraged and appreciated. Copying and/or pasting full recipes to any website or social media is strictly prohibited. Please view my photo use policy here.
[ad_2]

Source link