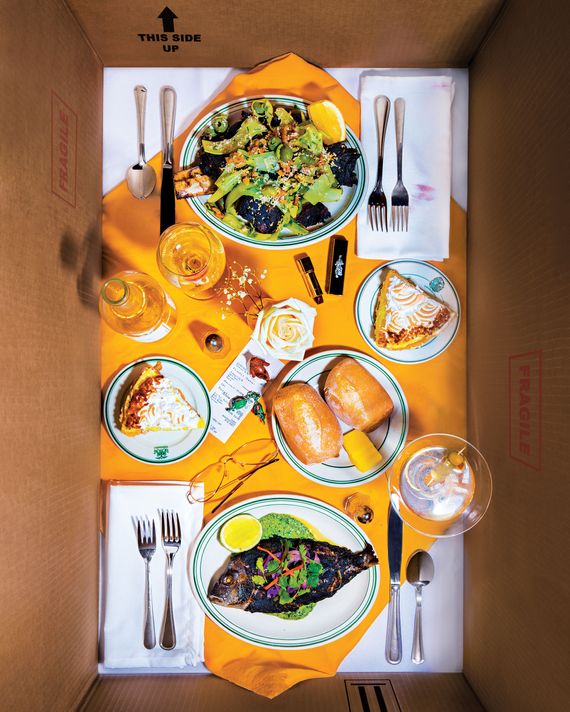 Il Buco Alimentari & Vineria's short rib from a Table22 meal kit (top), and whole sea bream from Summerlong Supper Club participant La Vara.
Photo: Beth Sacca
Nothing wrong with good old takeout and delivery, but if restaurants are as much about the experience as the food, can you package the experience and let it loose inside the customer's home? That, in part, is the goal of the restaurant subscription service, a burgeoning new business model designed to spice up the state of relations between eater and restaurant through regularly scheduled helpings of hospitality. The ultimate purpose of the two subscription services below, however, is to help keep restaurant doors open at a time when so many are closing. Sure, you might liken them to fruit-of-the-month clubs. But instead of a crate of kiwis, you get wine or cocktails or three-course meals prepared by some of the brightest lights in the restaurant industry in what is still the greatest restaurant city in the world.
summerlongsupperclub.com; sign up by January 17 for January 19 launch
Who's Behind It: Vinay Gupta, brand-innovation consultant, neuroscientist, and owner of the nascent Brooklyn-based Summerlong Wine Company, and spirits-industry vets Lynnette Marrero and Ila Byrne.
The Light-Bulb Moment: "As the pandemic worsened this fall, and no government help was forthcoming," says Gupta, "we thought, 'How can we step up and get other New Yorkers involved too?' We were batting around ideas, and then I remembered how Grant Achatz of Alinea sold tickets to meals in advance and I thought, 'What if you could sell the whole winter in advance?' We wanted an idea that benefited both restaurants and patrons. We also targeted independent, chef-owned restaurants which are hurting the most because they don't have corporate backers or the mature delivery and takeout business of your local pizza joint."
How It Works: You fork over a cool $800 ($960 if you want delivery), and through the end of April, you'll get a weekly dinner from one of 16 participating restaurants until you've tried them all. If you're doing the math, that's $50 per dinner, plus $10 for delivery. You can opt to pay as you go for a little more ($65, for delivery only).
What It Buys: Three-course meals from some of the city's best independent restaurants, including Cafe Mogador, Llama Inn, Meadowsweet, Atoboy, M. Wells, Cookshop, and Contra. Everything is prepped and cooked; the most you have to do is a little light assembly or reheating.
Sample Menus: Alta Calidad's turkey empanada with Brussels-sprout salad, beef ribs with fresh tortillas for DIY tacos, and carrot-and-olive-oil tres leches cake; La Vara's Spanish octopus with heirloom beans, whole roasted local sea bream with green tahini, and Basque cheesecake; Glasserie's winter-vegetable tabbouleh, stuffed quail, and pistachio-lemon layer cake.
Selling Points: Access to dinner delivery from favorite spots far beyond your Caviar zone. Gupta's not out to make a profit; 100 percent of the price of a meal goes to participating restaurants, and since the $10 fee won't completely pay for the cost of interborough deliveries, Summerlong covers the difference. It will also donate $50,000 worth of meals to New York health-care workers.
table22.com, a nationwide digital platform that began New York operations in August
Who's Behind It: Sam Bernstein, a tech entrepreneur who co-created the student-rental-housing app LoftSmart. When COVID brought that business to a halt, the self-described restaurant obsessive launched a new, food-focused platform and named it after his favorite table at Pasquale Jones, where he says he first felt "the magic of being a regular." ("We don't have them on Table22 quite yet, but that would really be a meaningful addition for me," says Bernstein.)
The Gist: Table22 software handles technical logistics; member restaurants (including Benno, Oxalis, and Public Records) design their own tiered membership programs for loyal local fans. These range from a one-, three-, or five-bottle wine subscription with the natural-wine geeks at the Four Horsemen ($40, $115, or $180, respectively) to a Frankies Spuntino "Cook the Book Club" feast. Customers sign up for monthly pickups and can cancel anytime. (No delivery for now, but as in other cities where the service is offered, that might change.) Table22 takes a 10 percent commission on sales.
Selling Points: Bernstein believes that membership-club-style perks — exclusive video content, discounts on everyday merchandise, early access to special events — distinguish Table22 from ordinary takeout. "Our main hope is to play a role in the evolution of the restaurant business model into one with diversified revenue streams, better margins, and easier access to a direct-to-consumer business line," says Bernstein.
Sample Share: From Noho's Il Buco Alimentari & Vineria, which enjoys the advantage of already being both restaurant and grocery store: a $60-a-month provision share comprising pantry essentials like high-grade oil and salt, value-added ingredients (garlic spread, dehydrated Jimmy Nardello peppers), and the makings of and recipes for a couple of meals, like fresh cavatelli with housemade tomato sauce and anchovies and chef Justin Smillie's blockbuster short-rib dish, ready to reheat and garnish with the accompanying olive-celery-walnut salad. (For those who believe no meal is complete without bread and wine, both are available as add-ons.)
Target Audience: Cooks and oenophiles who want to fill their pantries and cellars while supporting local businesses, and don't mind lugging their monthly hauls home.
*A version of this article appears in the January 18, 2021, issue of New York Magazine. Subscribe Now!