Burger King Egg-Normous Breakfast Burrito is a delicious and hearty way to start your day. This ginormous breakfast burrito with egg, bacon, sausage, cheese, and hashbrowns will keep you satisfied all morning.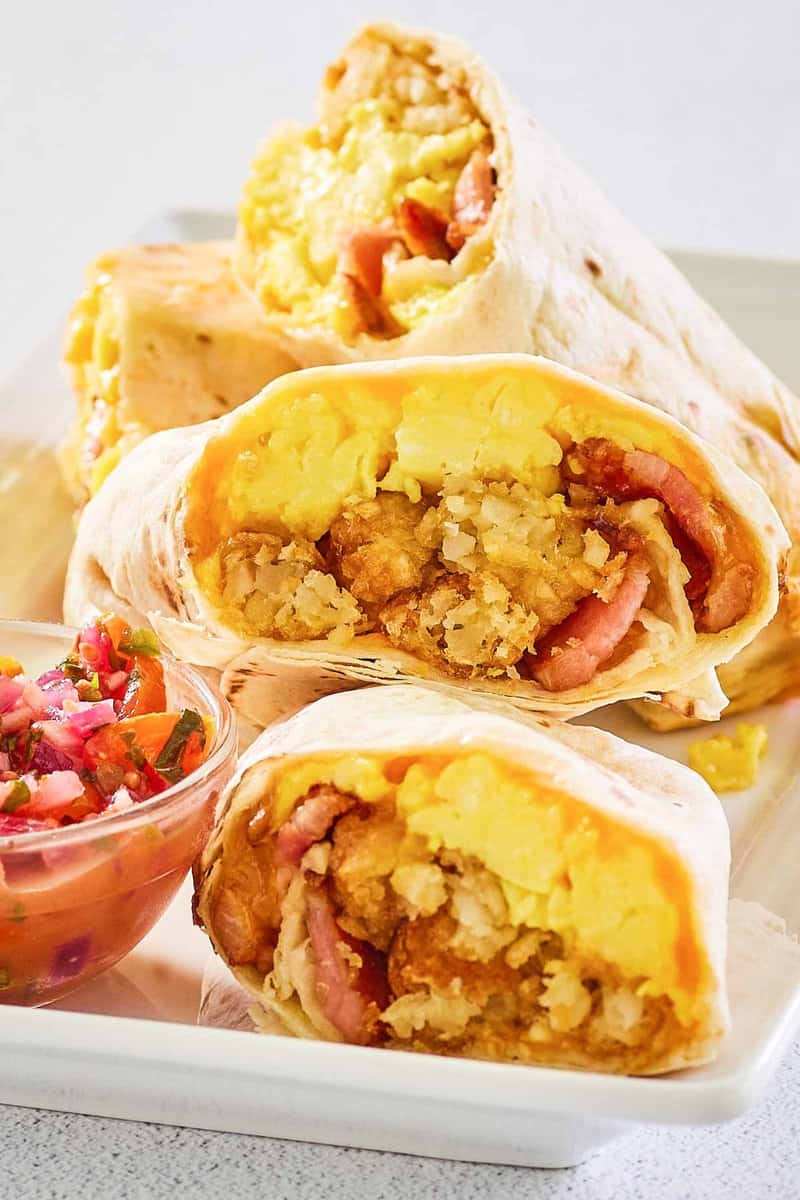 This post contains affiliate links. As an Amazon Associate, I earn from qualifying purchases.
What Makes the Burger King Egg-Normous Breakfast Burrito the One You Should Try Making at Home? 
Are you really hungry? Well, this breakfast burrito from Burger King has you covered. Stuffed with hashbrowns, bacon, sausage, eggs, and cheddar cheese, this deliciously satisfying meal will fuel you for whatever the day has in store. 
What Makes This Breakfast Burrito Recipe So Good? 
Enjoy all your favorite breakfast food on the go. With two types of meat, crispy potatoes, and fluffy eggs wrapped up in a warm tortilla, what more could make you love about this recipe?
How about the fact that you can make a bunch of these oversized burritos and freeze them for a convenient and quick weekday breakfast?
Ingredients For a Bacon Breakfast Burrito
To make a Burger King Breakfast Burrito, you'll need:
Hashbrown patties
Bacon 
Sausage patties
Eggs 
Tortillas 
Cheddar cheese, shredded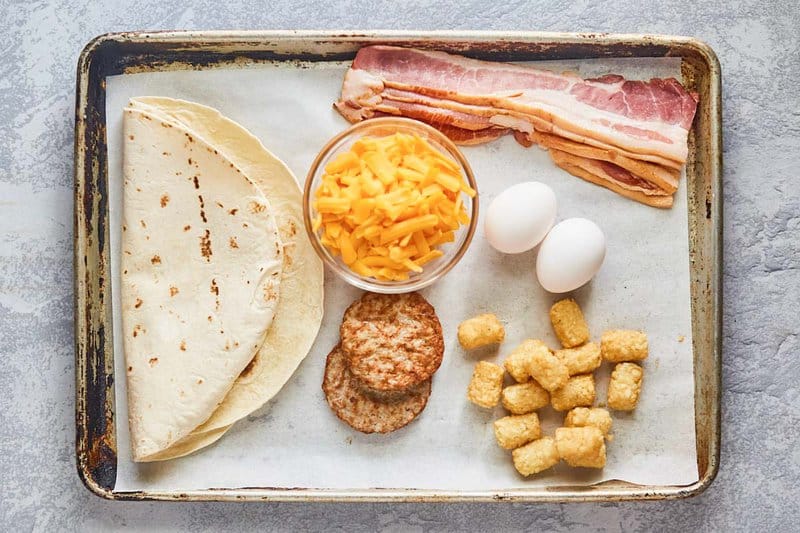 Ingredient Notes
You can use tater tots instead of hashbrowns or add even more flavor to these burritos with Cheesecake Factory Loaded Baked Potato Tots!
Pre-cooked frozen sausage patties work the best in this recipe because you won't need to worry about undercooking the meat. But, if you want, you can bulk sausage to make sausage patties with your favorite bulk sausage meat.
How To Make a Bacon Breakfast Burrito
To cook the bacon, sauce, and hashbrowns:
Preheat the oven to 425°F.
Place a wire rack on top of a rimmed baking sheet.
Lay the frozen hashbrowns, sausage patties, and bacon strips on the wire rack.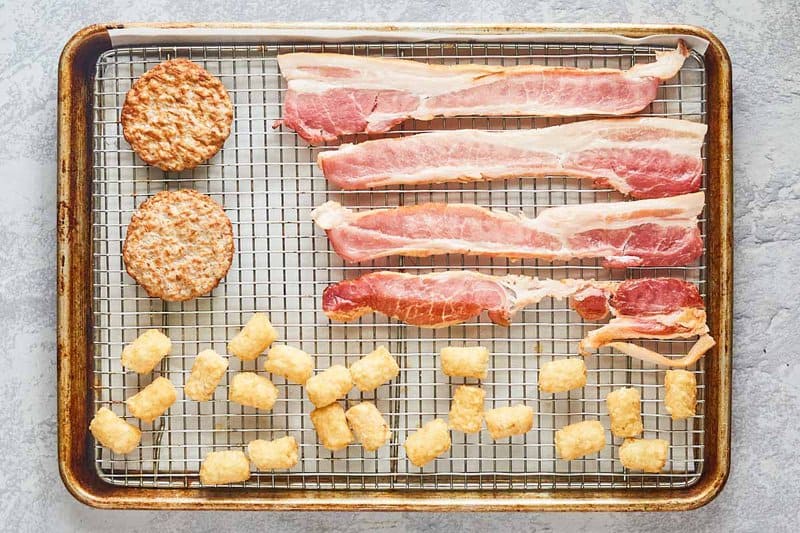 Put the tray in the oven to cook.
The hashbrowns will take the longest to cook, so set the timer for whatever the package says. Remove the other ingredients as they finish cooking, about 10 minutes for the sausage patties and 12 minutes for the bacon.
To cook the eggs:
Crack the eggs into a small bowl and whisk until frothy.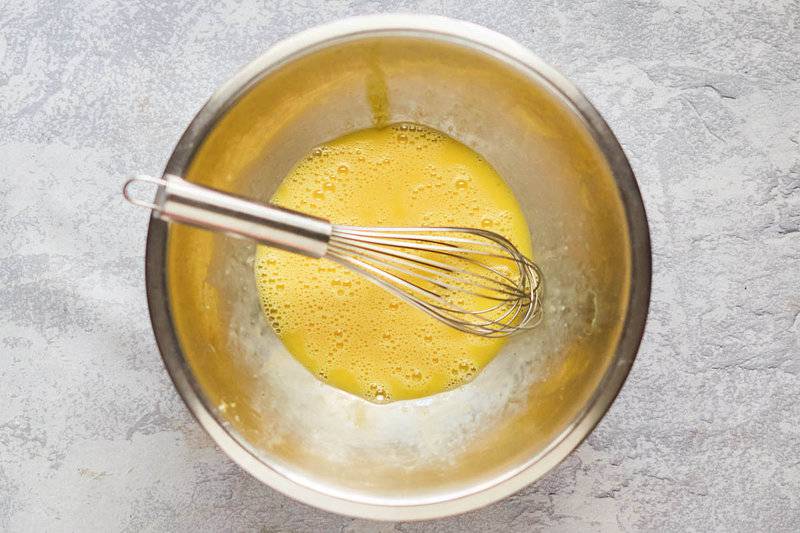 Place a non-stick skillet over medium-low heat and add a knob of butter.
When the butter stops foaming, add the eggs. Continuously stir the eggs with a silicone spatula to prevent them from browning.
Remove the eggs to a plate when they have set but are still a little shiny. Cover the plate with aluminum foil to keep the eggs warm.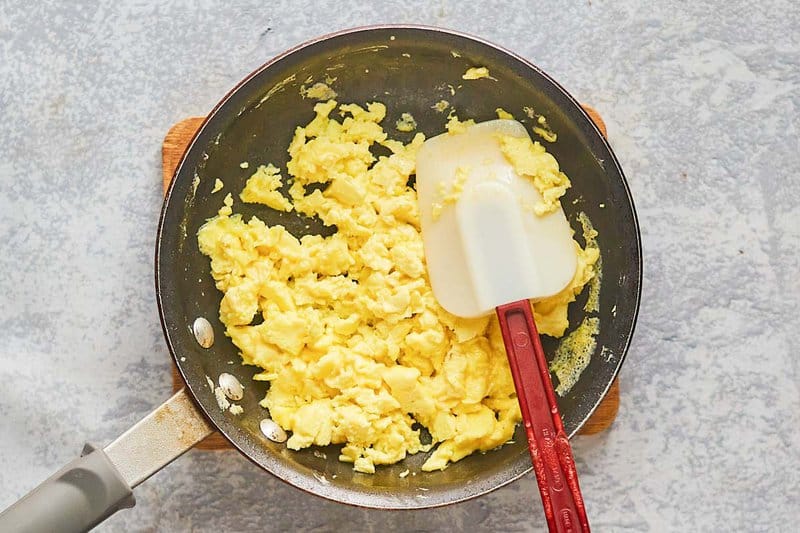 To assemble one breakfast burrito:
Warm a flour tortilla in a dry pan over high heat for about 15 seconds per side. Alternatively, you can heat a tortilla in the microwave for 30 seconds.
Sprinkle the cheese on the bottom third of the tortilla. Leave about half an inch of space on the sides and bottom.
Spread half of the cooked eggs on top of the cheese.
Cut one sausage patty in half and place both halves on the egg.
Add two slices of bacon and cover with roughly chopped hash browns.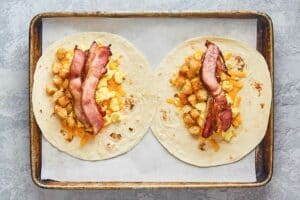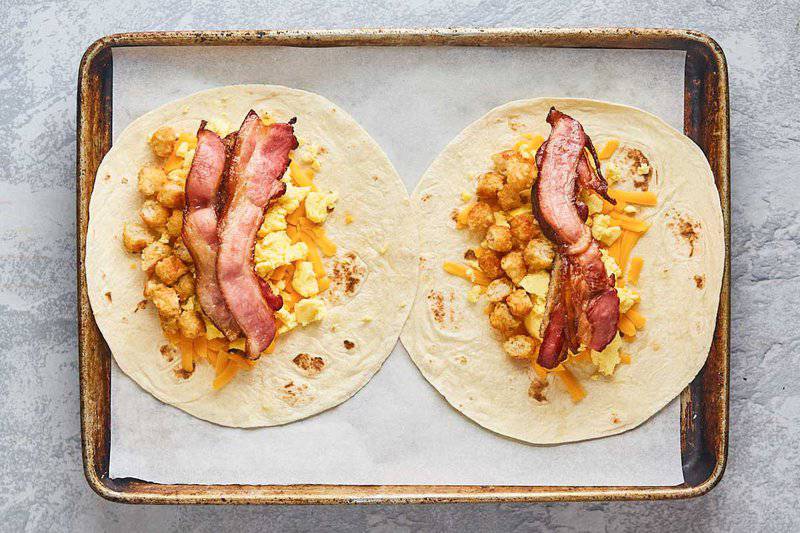 Fold the tortilla's sides in and bring the bottom over the fillings. Roll the tortilla away from you and place the burrito seam-side down.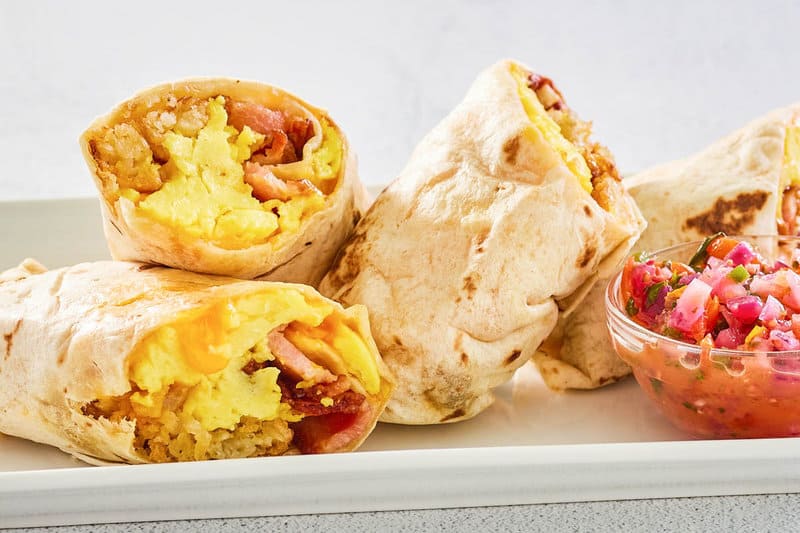 Egg-Normous Burrito Recipe Variations
Feel free to make a few changes to suit your preferences. Here are a few you may want to try:
Swap out the shredded cheddar cheese for your favorite cheese. You can use slices of American cheese which are milder in flavor. Pepper Jack gives this burrito a bit of spice.
Swap out the bacon or sausage with black forest ham or your favorite deli ham.
Add a few pickled jalapeno slices or a dash or two of your favorite hot sauce for even more heat. 
These burritos are giant! If you aren't that hungry, make a Burger King Breakfast Burrito Jr. using the same 10-inch tortilla but reducing the filling by half. A Burger King Breakfast Burrito Jr. is perfect when your kid doesn't have time to sit down for breakfast before school. 
What To Serve With This Recipe
A hot cup of coffee or your favorite coffee drink goes great with breakfast burritos.
How To Make These Ahead and Reheat for Later 
Breakfast burritos make a great make-ahead weekday meal. Prepare a bunch of burritos and pop them in the freezer. They will stay fresh for up to three months.
What's the Best Way to Freeze a Homemade Breakfast Burrito 
The secret to a non-soggy frozen burrito is refrigerating all the ingredients before assembly. Chilling down the ingredients ensures there won't be any condensation.
To prepare burritos to freeze:
Put all the ingredients in the fridge for at least an hour.
Pat the eggs, sausage patties, and bacon strips dry with a paper towel.
Assemble and roll the burrito as usual. 
Wrap the burrito in a 12-inch square of aluminum foil.
Store the wrapped burritos in a single layer inside a freezer bag. 
What's the Best Way to Frozen Reheat a Breakfast Burrito?
You can reheat a burrito straight from the freezer! Believe it or not, the microwave is your best friend for a hot and soft bacon breakfast burrito!
Remove the frozen burrito from the aluminum foil. 
Wrap the burrito in a damp paper towel and microwave for three and a half minutes. 
Unwrap and serve. If you prefer a crisper tortilla, heat the burrito in a dry skillet over medium-high heat for about a minute on each side.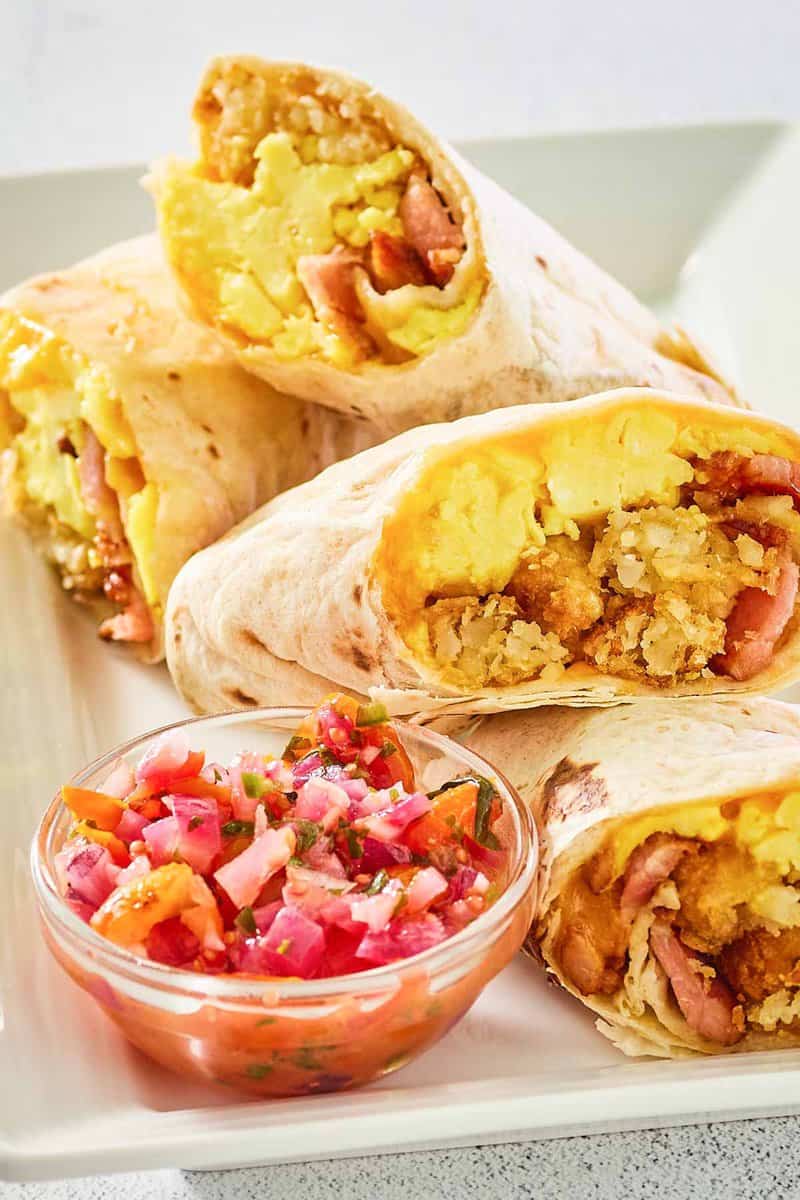 More Burger King Copycat Recipes
Popular Breakfast Recipes
Check out more of my easy breakfast recipes and the best copycat fast food recipes on CopyKat!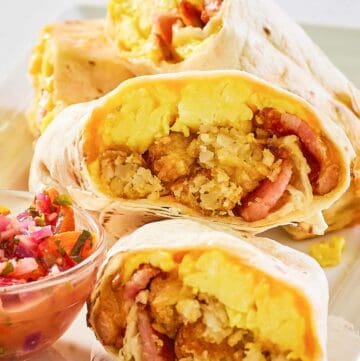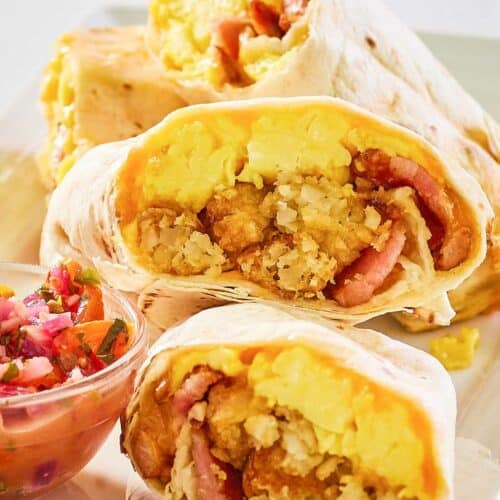 Burger King Egg-Normous Breakfast Burrito
You can make Burger King Egg-Normous Breakfast Burrito with egg, bacon, sausage, cheese, and hashbrowns with this easy copycat recipe.
Print
Pin
Rate
Add to Collection Go to Collections
Servings: 2
Calories: 753kcal
Ingredients
2

frozen hashbrown patties

or ½ cup frozen tator tots

4

slices

bacon

2

breakfast sausage patties

or ¼ pound mild breakfast sausage

4

large

eggs

2

teaspoons

butter

2

10-inch

flour tortillas

⅕

cup

shredded Cheddar cheese
Instructions
Preheat oven to 425°F Place a wire wrack on top of a cookie sheet.

Place hashbrown patties ½ inch apart from each other, then place the, bacon, and sausage on the wire rack.

Bake for 25 minutes. Remove the crispy bacon and sausage at about 12 to 15 minutes.

About 5 minutes before the hasbrowns are done, warm the tortillas.

Heat a large skillet over medium heat. After the skillet has heated, place a tortilla in the skillet, heat for 1 minute, filip heat for about 30 seconds and place on a plate.

Repeat with the second tortill and place it on a different plate.

Prepare the scrambled eggs by cracking the eggs into a small bowl and whisking them very well.

Add 2 teaspoons of butter to the warm skillet.

When the butter has melted, pour in the cracked eggs. Cook the eggs by gently stirring until they have firmed up and cooked through.

Build the burritos by placing the cheese onto the tortillas.

Divide the cooked eggs into two portions add a portion to each of the tortillas.

Cut the sausage patties in half, and place two halves on top of the eggs.

Add two slices of bacon on top of the sausage.

Cut the hashbrown patties in half and add those on top of the sausage.

Roll up the burrito.
Nutrition
Calories: 753kcal | Carbohydrates: 36g | Protein: 33g | Fat: 52g | Saturated Fat: 20g | Polyunsaturated Fat: 8g | Monounsaturated Fat: 19g | Trans Fat: 0.4g | Cholesterol: 454mg | Sodium: 1325mg | Potassium: 431mg | Fiber: 2g | Sugar: 3g | Vitamin A: 826IU | Vitamin C: 0.4mg | Calcium: 245mg | Iron: 5mg